The Commercial Pilot Course
<![if !vml]>

<![endif]>
The Commercial Pilot Course cost listed below assumes the trainee has a U.S. Private Pilot Certificate and a total flight time of at least 40 hours.

A Commercial Pilot Certificate is required to fly for hire. Once an applicant has completed our Commercial Program he or she is ready for employment in the general aviation industry. An applicant seeking employment in the general aviation industry will usually spend one to two years gaining experience in general aviation before airline application.

A full-time student (6 days a week) could complete the Commercial Pilot Course in as little as 90 days. A part-time trainee may take up to 24 months. Full-time students should schedule the start of their training at least 10 days in advance to ensure availability of equipment and staff.
The Commercial Pilot Course will prepare the Private Pilot for a place in the aviation job market. This 155 hour program will take the Private Pilot through the Instrument Rating (airplane single engine) and the Commercial Pilot Certificate.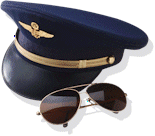 ---