The Private Pilot Certification Course
<![if !vml]>
<![endif]>
Our course can be completed in as little as 40. (20 hours dual instruction and 20 hours solo). Financing is available for all courses.
Once certificated as a Private Pilot certain easy to fulfill currency requirements come into effect. Every 90 days you must have done 3 take-offs and 3 landings in order to carry passengers. In addition to the 90 day rule, every pilot must undergo a period of required "recurrent training" every 2 years. For the Private Pilot, a medical exam is required every 2 years. (a good idea anyway!)

On average and at a leisurely pace expect to complete this program in 5 months. However, some people may take longer if they wish. It's up to you, and whatever best fits your schedule and financing.
The Private Pilot Certification Course allows the pilot to use an airplane for his/her pleasure, recreation, or business trips. As a private pilot you may not charge for your services. However, you may share the expenses of renting or operating an airplane with your passengers on a share-and-share alike basis.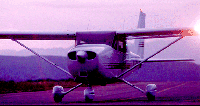 ---